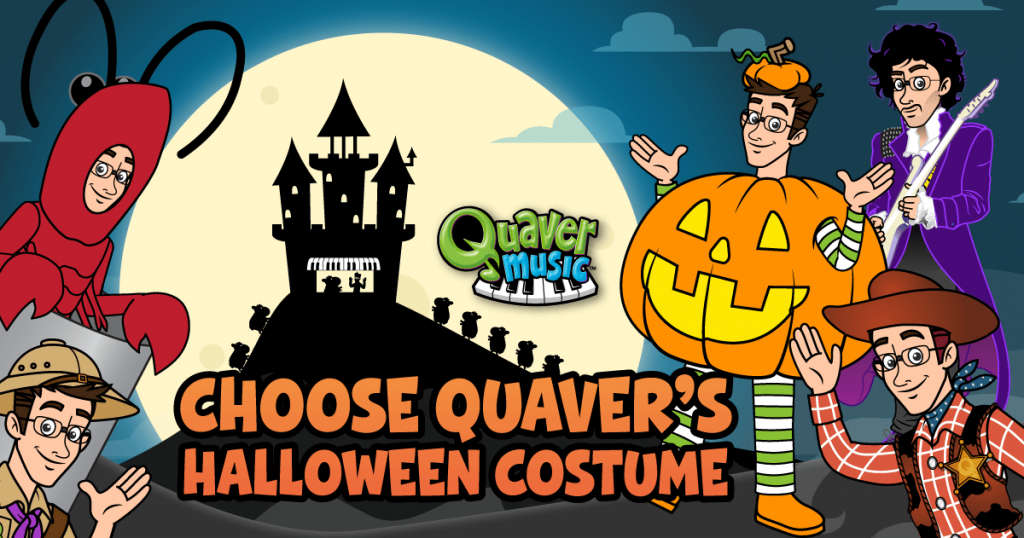 Fall is here! It's time to enjoy those pumpkin spice treats and listen to "Pumpkin Bones" and "Monster Groove" on repeat! It's also time for teachers and students of the Quaver Qmmunity to choose Quaver's Halloween Costume!
Here's how it works:
Each year, students and teachers suggest ideas for Quaver's costume. After collecting suggestions, our team creates a poll with the top five choices and classes can vote on their favorite costume idea. Quaver will then dress up as the winning suggestion and reveal it with a special video on October 25th!
Contest dates and details:
Ask your students to vote on ONE suggestion for the perfect costume for Quaver.
Submit ideas via this form between now and September 29th.
On October 1st, we'll announce the five finalists here on the blog and ask you to vote for your favorite! Voting will be open through October 8th.
On Monday, October 25th, Quaver will reveal the winning costume in a special video!
The class that suggests the winning costume will win a video call with Quaver!
We can't wait to see your creative ideas!
---
Need a reminder from past years? Take a look through the Quaver Costume Hall of Fame!
Pumpkin Bones (2019, 2020)
The Magical Ukulele Unicorn (2018)
The Treblemaker (2017)
Beat Baby Quaver (2016)
Rock Around the Clock: A Live Musical Cuckoo Clock! (2015)